Board of Education Vacancy
10 months ago
The Board of Education of the Moffat County RE-1 School District is accepting applications from persons interested in serving on the Board of Education from the date of appointment in until the next regular biennial school year election in November 2019. To be eligible for appointment, each candidate must:
be a registered elector of the school district for at least twelve consecutive months prior to the date of appointment

be a resident of the director district in which the vacancy exists
have never been convicted of a sexual offense against a child.
Any person who meets the qualifications and who desires to be considered for the appointment is invited to reach out to a Board of Education Member, or contact Sara Memmott at (970)826-6261.
District 6 Boundaries:
Point Of Beginning (POB) - Thirteenth Street and Colorado Street
Colorado Street south four blocks to Ninth Street
Ninth Street extending line west to Barclay Street
Barclay Street north one block to Tenth Street
Tenth Street west two blocks to Ranney Street
Ranney Street north extending line to North City Limit
North City Limit to Highway 13
U.S. Highway 13 north to Northern County Line
Northern County line east to Eastern County Line
Eastern County Line south to U.S. Highway 40
U.S. Highway 40 west to Haughey Road, extended (City Limit)
Haughey Road north to Ninth Street
Ninth Street west to Bryan Way
Bryan Way north to Eleventh Street
Eleventh Street west to Kowach
Kowach north to Thirteenth Street
Thirteenth Street west to Colorado Street (POB)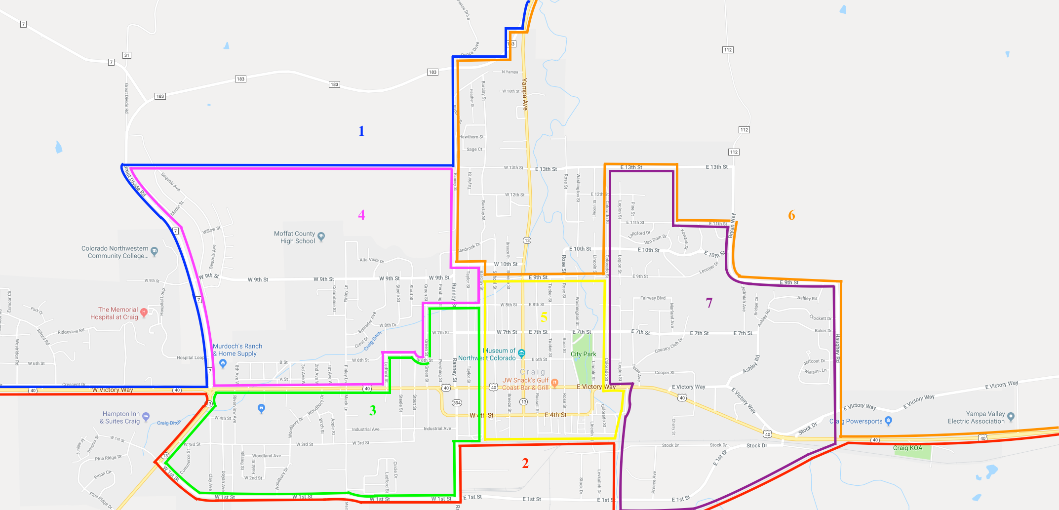 (District 6 is outlined in orange)